US military to use 3D modeling to maintain their MRAP Cougars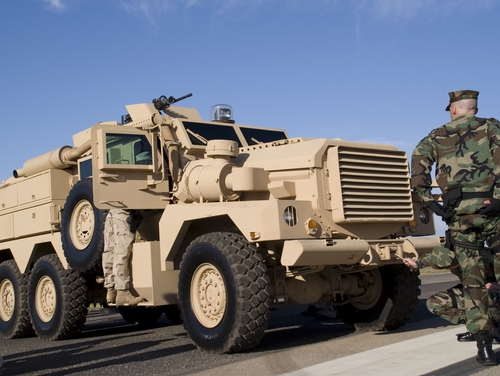 The U.S. military often turns to innovative equipment for its needs, and one base is using 3D laser scanning and modeling technology to develop its family of armored vehicles.
Growth of MRAP Cougars
According to the Naval Surface Warfare Center Panama City Division (NSWC PCD), it is using 3D modeling and laser scanning to evolve its Mine Resistant Ambush-Protected (MRAP) Cougar family of vehicles (FoV). MRAP vehicles are blast-resistant underneath and can work in all types of terrain. According to the U.S. Marines, a MRAP is the best defense against explosive devices. The Cougar is a type of MRAP that has been used by militaries around the world since it was first produced in 2002, according to Military Today, and has saved the lives of many U.S. Marines from improvised explosive devices (IEDs). News source WJHG reported the Cougar has been used by the U.S. military in Iraq and Afghanistan.
Under the Cougar 3D Modeling Project, 3D laser scanning and modeling will help maintain and develop the U.S. military's MRAP Cougar FoV, according to NSWC PCD. Brent Ingraham, lead systems engineers on the project, said laser scanning and modeling will help to ensure that these vehicles stay in top shape and the right modifications will better safeguard the lives of servicemen and women in the field.
"It will optimize mission capability and save lives by facilitating upgrades and engineering changes," Ingraham said about the project.
He noted the Navy and Marine Corps. will both benefit from the project.
"That is why we're now refining its technical data package with the 3D modeling and laser scanning technology," Randy Whitehead, the project's engineer, said about the Cougar 3D Modeling Project. "This technology enables us to identify any discrepancies that existed in the earlier variants of the MRAP Cougars, correct them for the whole family of vehicles and deliver an optimized baseline configuration to warfighters."
Both engineers involved in the project said that the laser scanners will end up making the Cougar FoV more reliable and more easily maintained than current models. WJHG reported the project has been underway for the past 18 months.
According to the NSWC PCD, the Cougar models are CAT II A2, CAT II A1 and CAT 1 A1, as well as an Ambulance Kit. WJHG reported these vehicles have more than 3,000 parts, and so scanning the parts with this type of technology can ensure nothing is missed and measurements aren't off.
The project is using laser scanners that pulse 60 times per second and can collect hundreds of thousands of data points over a few inches. Because of this detail, WJHG reported scanning objects can take from a day to a week.
WJHG reported the base is so happy with the benefits of using laser scanning and modeling technology that it has invested in a few laser scanners of its own. According to WJHG, the NSWC ordered a survey scanner, a blue-light scanner and an arm scanner to help maintain their MRAPs into the future.